All the squash recipes you need to make this fall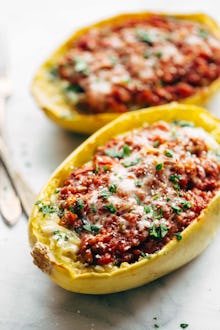 The leaves are changing and that means it's time for fall cooking! 
Acorn, butternut, spaghetti and many more types of squash are currently in season, and we suggest you try all of them. Push that PSL aside, it's time to get serious about eating real squash. While the squash type in each recipe is pretty interchangeable, here's how to use five types of great autumnal squash. 
Butternut Squash
Roasted Squash Soup with Apples and Soju
Roasting your squash before pureeing it for soup gives it even more depth. This squash soup seriously tastes like fall with the addition of sage, apple and Korean soju. Get the recipe here.
Roasted Butternut Squash, Kale and Cranberry Couscous
In a season known for its heartier, creamier dishes, it's nice to have a veggie-loaded salad-like creation such as this couscous to lighten up a meal. Get the recipe here.
Roasted Butternut Squash and Turkey Chili
Orange is the new red with this lightened-up chili recipe. Perfect for after a day of apple picking, or going to the store and buying some apple cider to sip as you cook. Get the recipe here.
Spaghetti Squash
Garlic Parmesan Spaghetti Squash
Leave zoodles for the summer and amp up your spaghetti substitute with squash this season. Get the recipe here.
Spaghetti Squash Lasagna Boats
Easier than making an entire lasagna, just stuff the fillings into a squash boat and let the vegetable take the place of pasta. You'll sail away in deliciousness. Get the recipe here.
Chicken Alfredo Spaghetti Squash
Guilt-free chicken alfredo? Almost. Subbing squash for fettuccine may permanently convert you to the cheesy gourd lifestyle. Get the recipe here.
_____________________________________________
Read more: 
Acorn Squash
Acorn Squash Lasagna
Making an autumnal squash dish is as easy and throwing slices of roast squash between some pasta, sauce and cheese. Get the recipe here.
Crockpot Caramelized Pork Ramen Noodle Soup with Curry Roasted Acorn Squash
Say hello to all that is fall in one bowl. If you're not up for making homemade ramen (big mistake!), take a major shortcut by just using this roasted squash recipe and mixing it in with your Top Ramen. Get the recipe here.
Delicata Squash
Crispy Delicata Rings
All you really need for these tasty rings are a delicata squash, oil and salt. What you enjoy these finger-food-friendly veggies with is up to you! Get the recipe here.
Delicata Squash Bake with Tahini Sauce
Skip the caloric pasta bake one autumnal evening and go for this squash bake, topped with hazelnuts and pomegranate seeds for extra crunch. Okay, serve it over pasta, that's fine too. Get the recipe here.
Wheat Berry and Apple Stuffed Delicata Squash
If you've made it through fall without stuffing a squash you did it wrong. Start with this stuffed delicata squash, which perfectly serves two when cut in half and baked with healthy ingredients. Get the recipe here.
Kabocha Squash
Slow Cooker Beef and Kabocha Squash Stew
Let this hearty autumnal meal simmer as you enjoy the crisp weather outside, or sit on the couch watching football inside. Get the recipe here.
Kabocha Pumpkin Pie
Sub out regular Halloween-style pumpkin for this Japanese squash in this sweet pie. Get the recipe here.