Lady Gaga's long-awaited "Perfect Illusion" is here — and it's absolutely epic.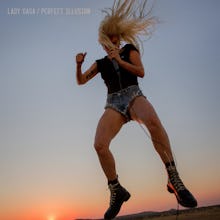 Ladies, gentlemen, monsters, it's official: Lady Gaga is back.
Thursday a little before 11 p.m. Eastern, the queen monster herself dropped her fifth album's long-awaited first single, "Perfect Illusion." Blaring guitars, a thumping disco beat and one jaw-dropping key change, it's every bit as thunderous as the head-banging cover art suggested it would be. Listen via iHeartRadio, YouTube, Spotify or purchase a copy on iTunes here.
Gaga teased the single all of Thursday, sharing a video loop of the song's opening on Twitter, Instagram and on her website. IHeartRadio confirmed the release time, adding in a separate tweet how excited they were to have all Gaga's little monsters gathered to "experience" the single. The artist's fans showed out hard.
"It wasn't love," Gaga belts on the song's chorus in her absolute fullest voice, the one that's brought innumerable stadiums and auditoriums to their feet. "It was a perfect illusion."
Fusing together disco and psychedelic rock into an urgent hybrid, the single showcases so much of what makes Gaga the creative powerhouse she is. It seems to borrow a bit from each of the producers she tapped for the project. The disco backbeats, which Kevin Parker used throughout Tame Impala's latest album, anchor the track. Mark Ronson, best known for his soul revival "Uptown Funk," and Bloodpop, the beat-maker responsible for Justin Bieber's bubbly "Sorry," lend some pop slickness.
The lyrics compliment the track's ecstatic, hallucinatory vibe. "I don't need eyes to see," Gaga sings. "I felt you touchin' me/ High like amphetamine/ Maybe you're just a dream." According to Gaga the song is all about "modern ecstasy," as she explained to iHeartRadio in August. "We found our sweet, simple, ragey way of saying it. I get this sick adrenaline rush every time I hear it." 
Much of Twitter clearly felt the same, and they expressed their gratitude by tossing weaves at the queen monster's feet. 
Now that "Perfect Illusion" is out in the world, the race toward Lady Gaga's fifth album is officially on. She still hasn't offered a name or a release date for the project, but chances are there will be more coming soon.
Sept. 9, 2016, 12:11 a.m.: This story has been updated.