Joe Manganiello will play Deathstroke opposite Ben Affleck in Batman solo film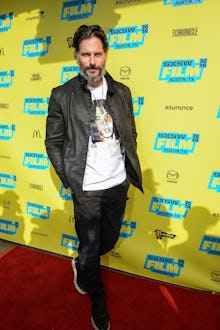 From stripping in Magic Mike to playing a werewolf in True Blood, Joe Manganiello certainly has the range — so why not make him a badass assassin?
The Wall Street Journal reported Thursday that Manganiello has been cast as the main villain, Deathstroke, in DC Comics' forthcoming Batman solo film, according to an interview with DC Entertainment president and chief creative officer Geoff Johns. The movie, which has yet to receive a title or a release date, will be directed by the film's lead, Ben Affleck. 
Affleck previously teased Deathstroke's involvement via a cryptic tweet in August, which showed footage of a character that bears a striking resemblance to the DC Comics assassin (Deathstroke's involvement was later confirmed by the Wrap). There wasn't much to the clip, just the character walking toward the camera with an indiscernible backdrop. But it was enough to set the fanbase ablaze, despite the fact they've suffered through several recent flops from Warner Bros (see: Suicide Squad and Batman v Superman).
It remains to be seen how Manganiello will fare in the role — and, frankly, if DC Comics can finally make a critical darling out of one of its superhero films and rightfully compete with the Marvel Cinematic Universe. In his interview, Johns detailed a little bit about the new direction the companies will be taking their upcoming films.
"Mistakenly in the past I think the studio has said, 'Oh, DC films are gritty and dark and that's what makes them different.' That couldn't be more wrong," Johns said. "It's a hopeful and optimistic view of life. Even Batman has a glimmer of that in him. If he didn't think he'd make tomorrow better, he'd stop."
We'll have to wait and see how that plays out when teasers and footage from Affleck and co start to roll out.