Get to know Miss Missouri, Erin O'Flaherty, Miss America's first out gay contestant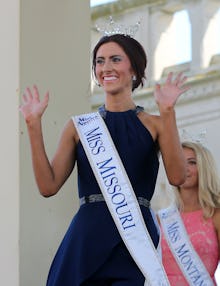 On Sunday, 52 national finalists will gather in Atlantic City, New Jersey, to compete for the title of Miss America, a title that's been called outdated and a bizarre relic. But this year, the iconic pageant is showing signs of progress.
For the very first time, one of those contestants is an out gay woman.
As Miss Missouri, Erin O'Flaherty, 23, is the pageant's first out gay person to compete in the Miss America pageant. She won her state title in June, earning an $11,500 scholarship and the chance to compete for the national title.
"Growing up, I was very feminine," she told Cosmopolitan in June. "Knowing I might be gay but also being very feminine was kind of confusing for me because I didn't fit into the stereotypical category I had in my head for a woman in the LGBT community. It took many years of struggle to figure out who I was."
O'Flaherty told the magazine she was "always out" to friends and family, but not in the pageant world. "I competed for one year before I was [publicly out] and I knew that once I was open about it, I would actually do much better in pageants because I would know I was presenting who I really was," she said.
"It is pretty unheard of to be a gay woman in the Miss America system."
Miss America contenders are required to have a platform, and O'Flaherty's is suicide prevention, with a focus on LGBTQ youth. She has partnered with the American Foundation for Suicide Prevention and the Trevor Project, which runs a crisis hotline for LGBTQ youth.
"LGBT youth are actually up to eight times as likely to commit suicide as compared to their straight peers if they come from an unaccepting environment," O'Flaherty told Good Morning America in June. 
But, as she told GMA, O'Flaherty doesn't want to be known only as the gay contestant. 
"My focus of this year, I hope, will not be solely on my sexuality," she said. "I think what my message really is, is that I had dreams and goals and I was very scared at first to become who I am. But once I stepped into who I was is when I became most successful.
The Miss America Pageant will air live on ABC on Sunday, Sept. 11 at 9 p.m. Eastern.