'Destiny: Rise of Iron' news, pre-order, trailer, price and latest updates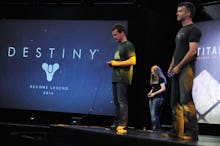 Destiny: Rise of Iron, the fourth expansion of 2014's Destiny, arrives on Sept. 20. Ahead of the game's release date, new information is steadily trickling out as gamers prepare to defend humanity from the Fallen. Here are some key details:
Trailer
Below you'll find the official Destiny: Rise of Iron reveal trailer that showcases a new story campaign while teasing new maps, weapons, enemies and multiplayer modes.
Pre-order and price
Convinced to buy Destiny: Rise of Iron after watching the trailer? The expansion is available for pre-order on GameStop, Best Buy and the PlayStation Store for $29.99. As an added bonus, if you pre-order Rise of Iron you'll be rewarded with a black and silver "Iron Gjallarhorn Rocket Launcher" upon completing an in-game quest.
News and updates
On Thursday, Bungie — the developer of Destiny and all of its expansions — released patch notes for Destiny 2.4.0 designed to strategically level the playing field in preparation for Rise of Iron. Most notable changes focus on the game's weapons, though there are updates to armor, in-game activities, quests, the user interface, and more. You can check out the full list of patch notes on Bungie's official website.
The 2.4.0. update is unofficially titled "The one preparing for Rise of Iron." Bungie's blog post detailing the changes read: "In advance of the launch of Rise of Iron, we are preloading content. These changes will alter the Destiny Sandbox, update the player experience, and prepare the world of the game for the next story we are about to tell."
Bungie further explained the "weapon change philosophies" in an official statement from Greg Pang, Sandbox Designer. It says:
"With every new Destiny expansion, we find an opportunity to try to holistically address Sandbox balance. We learn from our success and mistakes, scrutinize player activity from our vast reserves of player data, and come up with a plan of execution. With an expansion, we can change the balance landscape not only by modifying old guns, but also by creating new ones to fill missing roles and satisfy player desires."
Mic will keep you updated on Destiny: Rise of Iron ahead of the game's release on Sept. 20.