Issa Rae's 'Insecure' trailer reminds us why we fell in love with her in the first place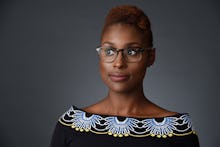 HBO released its official trailer Wednesday for Issa Rae's Insecure, and audiences can prepare themselves for that special brand of awkward comedy that hits home for so many of us. 
Five years ago, Rae captured the hearts of "awkward black girls" everywhere with her 2011 YouTube web series The Misadventures of Awkward Black Girl. Now many of those same quirky situations are tackled on the eight-episode series Insecure.
In the trailer, Rae is dealing with relationship drama, work issues and how to take control of her life in a way that suits her. We meet her boyfriend Lawrence (Jay Ellis) who seems to prefer cuddling on the couch more than anything, and her best friend Molly (Yvonne Orji) who seems to have her life together. Yet the beauty of this show, of course, will lie in riding along in this bumpy journey with Rae.
She taps into those clique-y conversations at the workplace: "They're having secret white meetings, and they're sending secret white emails." (Peep the familiar face, with Sujata Day, who played Cece on the web series.)
She questions her relationship: "Sometimes I don't even know what we're doing. I don't want to just sit on the couch with you for the rest of my life."
And most importantly, she comes to grips with a new life philosophy: "I had it all wrong. I don't need to be Miss No Fucks. I'm now Miss Give All the Fucks."
Insecure premieres at 10:30 p.m. Eastern on Sunday, Oct. 9 on HBO. Watch the full trailer below.