San Antonio mattress store owner apologizes for 9/11 ad where "Twin Towers" fall down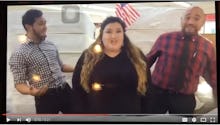 Perhaps one day business owners will learn that it's just not a good idea to hold a promotional sale to commemorate 9/11.
Miracle Mattress in San Antonio learned this the hard way Thursday, after posting an advertisement on Facebook for a "Twin Tower" sale on mattresses: Buy any size mattress for the price of a twin-sized mattress, the San Antonio Express-News reports. 
In the ad, which has since been deleted from the page, store manager Cherise Bonanno and two employees stand in front stacks of mattresses just before Bonanno pushes the other workers into the "towers" causing them to fall.
Bonanno then turns to the camera and says, "We will never forget."
Store owner Mike Bonanno posted an apology letter Thursday evening on Facebook. 
"I say this unequivocally, with sincere regret: The video is tasteless and an affront to the men and women who lost their lives on 9/11," Bonanno wrote. "Furthermore, it disrespects the families who lost their loved ones and continue to struggle with the pain of this tragedy every day of their lives."
Bonanno also said Miracle Mattress would review its marketing strategy to ensure that something like this "never happens again." 
Cherise Bonanno, who appeared in the video, issued an apology, "It was a stupid idea that we sent out and we apologize for our stupidity. And we really hope you forgive us for what we've done," she told local television station KNSD.
It was a swift turnaround from a statement that was issued earlier Thursday regarding the ad. "We are very sorry we have offended you," the post said originally, according to the San Antonio Express News. "Our staff is full of military and some relatives have passed away due to 9/11. We are promoters of peace and love." It has since been changed.
The store will still hold its sale this weekend, and says it will donate 30% of its proceeds to the 9/11 Foundation, according to KNSD.
This is at least the second time a company has promoted a Sept. 11 sale this year. Boxes of Coca-Cola were set up to resemble the Twin Towers at a Florida Wal-Mart. The sodas were on sale for $3.33 for a 12-pack.
So companies, lucky for you, here is a free, simple flow chart available for whether it'd be a good idea to try a 9/11 promotion: