San Francisco 49ers to donate $1 million to two local groups that "help bridge the gap"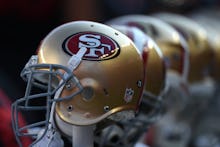 San Francisco 49ers CEO Jed York pledged $1 million from the team to local foundations in an effort to address social inequality in the Bay area.
The San Francisco Foundation and the Silicon Valley Community Foundation will split the donation to hopefully "really help bridge the gap, create better collaboration between law enforcement and local communities," York told ESPN on Thursday.
The donation comes on the heels of San Francisco 49ers quarterback Colin Kaepernick's protest of the national anthem during the team's preseason opener.
"I am not going to stand up to show pride in a flag for a country that oppresses black people and people of color," Kaepernick said. "To me, this is bigger than football and it would be selfish on my part to look the other way. There are bodies in the street and people getting paid leave and getting away with murder."
Last week, Kaepernick said his protest would continue to "stand with the people that are being oppressed" until "there's significant change" in the United States. The player's method of protest has since been criticized by several people, but York said there's a bigger issue at hand.
"Whether or not I agree with his form of protest, you can't argue the facts of the divide you see in this country," York said.
Both groups say they are still finalizing details around the charitable donations. 
"The San Francisco Foundation is focused on expanding racial and economic inclusion in our region for everyone that calls it home," said Gail Fuller, VP of marketing and strategic communications, in a statement to Mic. "Our work is organized around three pathways:  People — expanding access to opportunity, place — anchoring communities that reflect people's culture and identity; and power — nurturing equity movements to ensure a strong political voice for all."
Emmett D. Carson, president and CEO of Silicon Valley Community Foundation, said in a statement that he is "honored to work with the 49ers Foundation."
"The 49ers have leveraged their platform during a crucial moment in our nation's history to help instill social change and a unified front across our communities," Carson said. "Their commitment to social progress will directly aid our efforts to make a greater impact in fostering unity throughout San Mateo, Santa Clara, and San Francisco counties.
The 49ers' donation is separate from the $1 million pledge Kaepernick made to human rights groups, York said. On Tuesday, Kaepernick also said he would donate his jersey sale proceeds to communities in need.