Denver Broncos' Brandon Marshall kneels during national anthem in 1st regular-season game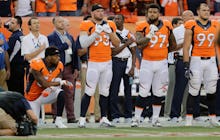 Denver Broncos linebacker Brandon Marshall took a knee Thursday night in Denver during the national anthem in the NFL's first regular-season game.
Marshall played with San Francisco 49ers quarterback Colin Kaepernick at the University of Nevada, and had previously stated his support of his former teammate's protest.
"Kaep, he's using his platform how he wants to use it, to reach the masses," Marshall said to the Colorado Springs-Gazette. "We have freedom of speech. But then we use our platform, and we get bashed for it. It's almost like they want us to only go with the grain. And once we go against the grain, it's an issue. 
"I feel for Kaep. I understand where he's coming from, and I support him."
Kaepernick faced backlash online from critics who said he was disrespecting the U.S. and its military by not standing during the national anthem. The Broncos issued a statement Thursday night saying the team respects Marshall's decision to support his ex-teammate.
"While we encourage members of our organization to stand during the national anthem, we understand and respect it being a personal decision," the Broncos said in a statement.
Marshall is the third player to sit out during the national anthem. On Sept. 1, Kaepernick's teammate Eric Reid kneeled by his side. That same night, Seattle Seahawks cornerback Jeremy Lane sat out the national anthem in a game against the Oakland Raiders.
It is not a rule in the NFL to require players to stand during the "Star-Spangled Banner."