Dozens of people rescued from cable cars dangling nearly 12,000 feet over the Alps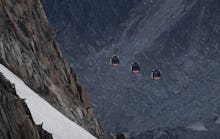 They spent the night dangling thousands of feet above the French Alps. Friday morning, dozens of people trapped in a tangled series of cable cars over Mont Blanc were finally rescued and brought to safety, the Associated Press reported.
The high-altitude cars — which connect France's Aiguille de Midi peak to Italy's Pointe Helbronner — were carrying around 110 people when their cables became entangled on Thursday. They were stuck — nearly 12,000 feet above the slopes of Mont Blanc.
On Thursday night, 65 of the passengers were rescued in "an extraordinarily tense and risky rescue operation," the AP reported.
Kathy Cook, who was visiting the Alps from Michigan, said she was trapped in the cable car for nearly 10 hours. "The cable car left about 2:30 in the afternoon and it was just before midnight when they finally brought us out of the gondolas, which was really quite an experience," she told the AP.
"The helicopter rescue failed because the fog moved in, so we had to just wait and then they decided they could bring us safely to the ground, and we walked up the glacier to the hut," Cook continued.
Stranded overnight: Rescue operations had to be stalled Thursday evening due to nightfall and poor weather for helicopters, leaving dozens stuck in the cars for the night. Thankfully, the riders weren't alone: Five rescuers bearing blankets, food and water stayed in the cable cars with them.
The remaining trapped passengers were finally rescued Friday morning and brought to Chamonix, France, and Courmayeur, Italy. A medical team provided by local rescue services checked people for signs of hypothermia.
The tangled cables have been repaired, and the cable cars were back in action Friday morning, Chamonix's mountain rescue service told the AP. As for who's game to ride them, it remains to be seen.