Train derails in Galicia, Spain, leaving at least 4 dead and dozens injured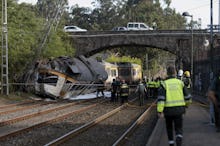 At least four people are dead and 47 are injured after a train derailed Friday morning in Porrino, a town in Spain's Galicia region, the Associated Press reported. 
The train was reportedly traveling from Vigo, Spain to Porto, Portugal, and belonged to Portuguese rail company Comboios de Portugal. It was carrying 63 passengers, plus an engineer and ticket collector, Spanish state rail company Renfe stated, according to the AP.   
This video, shared on Twitter by El Mundo, shows the extent of the wreckage:
The train, which had three cars, derailed on a straight part of the track, according to the AP. The front car reportedly became fully detached from the tracks and hit a post, while the back two cars came partway off the tracks.
The Spanish national railway infrastructure company Adif said it has launched an investigation, according to the AP.
Another video shared by El Mundo shows passengers receiving medical treatment at the train station near the crash. Some of the injured passengers were taken to hospitals by helicopter and ambulances, CNN reported.
Galicia was the site of another deadly train crash in 2013, when an eight-car train traveling from Madrid to Ferrol, Spain, derailed near Santiago de Compostela. At least 78 people were killed and more than 140 were injured, the BBC reported.
The 2013 train crash — one of the worst in Spain's history — prompted three days of national mourning.
This story is breaking and will be updated.