At NYFW, R13 declared war on Donald Trump with a delightfully NSFW dress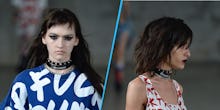 Hating Donald Trump is now officially a fashion statement. 
At New York Fashion Week on Thursday, the label R13 sent several models down the runway wearing dresses scrawled with a pointed message regarding the Republican presidential nominee.
Shall we get a closeup? 
Ah yes. Fuck Trump. 
The dress even comes in a different style in blue. 
Each of the looks were paired with patriotic combat boots. 
Oh, and there were skinny jeans.
"It was an idea that came up very spontaneously and it felt right, so we explored it," Chris Leba, the label's designer, told Refinery29. "We actually had to develop the silk print very early on [in the design process] because of the lead time, but did not make the decision to whether or not go ahead with showing it until we saw everything together." 
In addition to the "Fuck Trump" dresses, the label also sent out dresses, blazers and leggings with "God Save America" scribbled all around.
This is what fear two months before an presidential election looks like at New York Fashion Week. 
"We felt strongly that we didn't want Trump to be our president and thought it was important to voice that," Leba said. 
To fans of R13, the designs didn't come as a surprise: The label previewed one of the dresses on Instagram with the caption, "To all the Trump supporters... #sorrynotsorry." 
And this isn't even the first time a designer has addressed Donald Trump. In January at Paris' Men's Fashion Week, a model walked the runway wearing a rather startling rubber Trump mask. 
Although a fashion show may seem like an unlikely place for a political statement, designers of late have been getting more blatantly political, with designers like Pyer Moss taking on police brutality by writing Eric Garner's last words — "I can't breathe" — on a number of his garments for New York Fashion Week last September. In February, designer Marc Jacobs emerged after his fall 2016 show wearing a Hillary Clinton T-shirt. 
But this marks the first time a designer at New York Fashion Week (reminder: We're only two days in) has addressed Trump this directly and harshly, which would sensibly cause some backlash. 
"Much to our surprise, we haven't gotten any negative feedback yet," Leba told Refinery29. 
Oh. Well then. Never mind.
Mic has reached out to R13 for further comment.