Miss America 2017 finals day, where to watch and more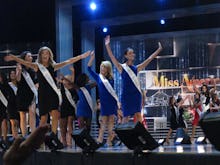 If you're looking for swimsuit competitions and dreams of world peace, you're in luck: The Miss American beauty pageant is set to air live from Atlantic City, New Jersey, Sunday on ABC at 9 p.m. ET.
The Miss America Organization hosted a series of preliminary events and smaller competitions on Tuesday, Wednesday and Thursday, in the lead up to Sunday's main event. MAO has awarded scholarships to the preliminary round winners. 
This year's pageant boasts a number of firsts, including the first openly gay contestant, Miss Missouri Erin O'Flaherty. 
"In this way, the 23-year-old from Missouri is being heralded as a trailblazer in the constellation of pageants, upending the notion that contestants are exploited in an old-fashioned, heterosexual-dominated forum that dictates how women should look, and what — or how little — they should wear," the New York Times' Christine Hauser wrote. 
But O'Flaherty has also tried to minimize this dimension of her public persona, telling the Times, "I want to get the conversation away from my sexuality."
Since its inception in 1921, the competition has been slow to include minorities. The first black contestant didn't participate until 1970 and the first black Miss America — the one and only Vanessa Williams — didn't win until 1983. 
The competition remains controversial, with critics describing it as sexist and outdated. But MAO describes itself as much more than a pageant, and as something that empowers women. "The Miss America Organization ... is the nation's leading advocate for women's education and the largest provider of scholarship assistance to young women in the United States," it states on its website. 
"Miss America is more than a title; it's a movement of empowering young women everywhere to achieve their dreams by providing quality scholarship assistance and honoring their commitment to helping others," it adds.