Lady Gaga's new album collaborators revealed. Expect a lot more rock 'n' roll.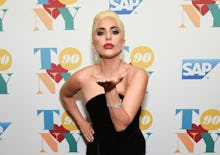 Lady Gaga's new single "Perfect Illusion," released Thursday, has set the tone for a more defiant and disruptive album than we've ever heard from the queen monster. But at the same time, that seems completely natural.
The song has an '80s rock ballad feel, which makes perfect sense considering the contributing musicians. Gaga revealed on Twitter that Queens of the Stone Age and Kyuss' Josh Homme sat in on guitar, Tame Impala's Kevin Parker played synths and drums, while "Uptown Funk" architect Mark Ronson added even more guitars and production. For the full album, there's going to be a lot more rock 'n' roll where that came from.
In a conversation with Radio 1's Breakfast Show with Nick Grimshaw Friday morning, Gaga revealed she's collaborated with Beck, Father John Misty and Florence and the Machine's Florence Welch for the record, calling the latter "if not the best but one of the greatest vocalists in the world," according to NME.
"I would say the same about the musicianship of Beck, of Father John [Misty], Kevin Parker and Mark Ronson," she said.
Gaga's new rock direction is relatively uncharted territory for the artist. But it's been a long time coming. 
"I was in a classic rock cover band at the same time I was in jazz band in high school and doing jazz state competitions," Gaga said in a 2014 Reddit AMA. "We were called Mackin' Pulsifer. I have a real passion for Robert Plant's vocals, Led Zeppelin was a huge inspiration for me. I'm certain that side of my musicianship will seep through the pores of music in the future."
Everything about the new single makes it feel as though its from another time period. From the lyrics, which Gaga describes as "raging against" social media and the internet, to the organic instrumentation and raw vocals, "Perfect Illusion" is very much a disco-meets-rock-meets-2016 track. 
"Kevin flew to us from Australia and he came with this idea, that was the beginning of a song called 'Illusion,'" Gaga told Radio 1. "We stripped everything away. Changed the melody, shifted it. I sat at piano, Kevin was on guitar, Mark was on the bass."
"Perfect Illusion" is currently available across streaming services.