The co-founder of Facebook is spending $20 million to beat Trump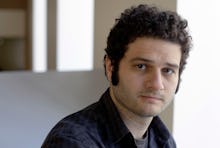 In a Medium post on Thursday night, Facebook co-founder Dustin Moskovitz — you may know him as the guy played by Joseph Mazzello in The Social Network — announced that he and his wife, Cari Tuna, were pledging a full $20 million to defeat Donald Trump.
Moskovitz explained that he and Tuna had not, before this, made any "endorsements or contributions in presidential elections." But this election "is different," he said.
"Like many Democratic voters, we don't support every plank of the platform," he wrote, "but it is clear that if Secretary Clinton wins the election, America will advance much further toward the world we hope to see. If Donald Trump wins, the country will fall backward, and become more isolated from the global community."
Moskovitz called Trump's promises "quite possibly a deliberate con," and said he hopes his $20 million pledge serves as "a signal to the Republican Party that by running this kind of campaign — one built on fear and hostility — and supporting this kind of candidate, they compel people to act in response."
Where the money is going: The two biggest chunks of the $20 million pledge, according to Moskovitz, are $5 million each to the League of Conservation Voters (LCV) Victory Fund and the For Our Future PAC. 
Other recipients include MoveOn.org, the Hillary Victory Fund, the Democratic Senatorial Campaign Committee, the Democratic Congressional Campaign Committee and the Color of Change PAC, as well as "several nonpartisan voter registration and [get out the vote] efforts."
A spokesperson for Moskovitz said in an email on Friday that MoveOn.org, along with several other recipients of the money, will put the funds toward grassroots voter turnout.
The Associated Press reported on Friday that Moskovitz's pledge makes him the second-biggest Democratic donor of the election, after San Francisco-based billionaire Tom Steyer, who, according to the Washington Post, had given a total of $38 million as of July 31. Super PACs have no contribution or spending limits, and the Post reports that donors are giving "record sums" this election.
Along with Steyer and now Moskovitz, some of the 2016 election's biggest Democratic donors include hedge fund founder Donald Sussman, who had given $17.4 million as of July 31, and George Soros, who had given $15 million by that date.
In the post announcing his pledge, Moskovitz admitted he and Tuna "have reservations about anyone using large amounts of money to influence elections," but said "we believe in trying to do as much good as we can, which in this case means using the tools available to us (as they are also available to the opposition)."
The arms race of private donations is certainly real. According to OpenSecrets.org, a nonpartisan website run by the Center for Responsive Politics that tracks money in politics, 23 individual donors — Republicans and Democrats alike — have already given more than $5 million each this election cycle.