University of Oregon just voted to strip the name of a KKK leader from a dorm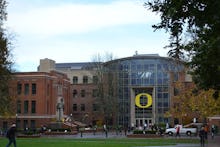 On Thursday, the University of Oregon's Board of Trustees unanimously voted to rename Dunn Hall, a campus dorm carrying the legacy of KKK leader Frederic Dunn.
According to local paper the Register-Guard, the university's Black Student Task Force had been pushing for the change since November. However, the death of black teen Larnell Bruce at the hands of an alleged white supremacist last month made the cause more urgent.
"The state of Oregon has a very ugly racist history that was deeply ingrained in our policies and laws," student body president Quinn Haaga told the trustees, according to the Register-Guard. 
"Unfortunately, as this horrible tragedy illustrates, these sentiments are still very alive and well in many parts of the state."
Jezebel reported that one alumnus had advocated for keeping Dunn's name on the dorm, arguing the KKK leader's involvement in the YMCA seemed "antithetical" to his supremacist views. But otherwise, the trustees along with university president Michael Schill were on the same page. 
"This is a group that was formed to promote hatred throughout society," trustee Andrew Colas told the Register-Guard.
Oregon joins a group of schools beginning to reckon with histories of slavery and white supremacy. In May, trustees at the University of Tulsa law school voted to wipe the name of John Rogers, the school's very founder who had helped establish Oklahoma's KKK branch, from one of its buildings. And last year, UNC-Chapel Hill renounced the name of alumnus and "chief organizer" of North Carolina's KKK William Saunders, after whom the college's Saunders Hall was named.
The trustees and administration at Oregon will soon consider changing the name of the campus' Deady Hall, named for pro-slavery politician Matthew Deady.
"You're talking about 11 generations of African-Americans who were born as slaves," Colas told the Register-Guard. "That is the most egregious act that we have seen in the United States and will ever hopefully see in the United States."