Louisiana flood costs nearly double some estimates thanks to climate change, 80% uninsured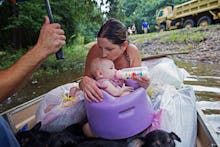 A series of storms battered the gulf coast in August, particularly in Louisiana and Mississippi, in what was the worst natural disaster to hit the United States since Hurricane Sandy.
Now that the flooding has finally receded, watchdogs have gotten a better grip on the extent of the damage. 
Some 110,000 homes and 100,000 vehicles were damaged or destroyed in the flooding, with a total cost projected to be between $10 billion and $15 billion, according to a Friday report from the insurer Aon. 
Most crucially, only 20% of losses were insured through some sort of government program, at most, meaning that figure could be even lower. Many have taken to sites like GoFundMe to try and recoup their losses. 
The federal government has already spent more than $660 million on temporary shelters and other relief efforts, but that's won't be nearly enough. 
All week, Louisiana Gov. John Bell Edwards lobbied officials in Washington, D.C. to get an aid bill passed for more flood relief. 
Even with additional federal support, state officials are unsure of how they're going to cover the bill, which earlier this week was thought to be closer to $8.7 billion. 
Climate change was likely a factor in making the seven-day storm so bad, according to a report released Wednesday by the National Oceanic and Atmospheric Administration. 
Scientists predicted that the likelihood of such an event is 40% higher than it would have been in pre-industrial times, and scientists expect that this sort of event will happen every 30 years in the Gulf region. 
The storms are also more intense, the same study found.