'FIFA 17' demo, ratings, release date, soundtrack and latest news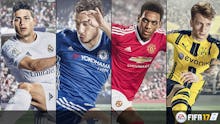 The latest installment of EA Sports' popular soccer franchise is on the horizon with FIFA 17. With the release date steadily approaching, we're taking a look at the newest edition of the FIFA series, which is the first to feature a cinematic story mode as well as the powerful Frostbite game engine. 
Release Date
FIFA 17 arrives on Sept. 27 in North America, and will be released worldwide two days later on Sept. 29. The game is currently available for pre-order with a variety of special editions that unlock in-game benefits. A full breakdown of FIFA 17's pre-order offers are available on the official EA Sports website.
Demo
For those looking to get a first taste before ordering, EA Sports is reportedly releasing a FIFA 17 demo on Tuesday, Sept. 13 — but only for a limited number of days. The demo supposedly includes 12 teams with the option to play a single match.
Player rankings
EA Sports has already released the top 50 ranked players in FIFA 17, along with their individualized FIFA Ultimate Team cards. The top 10 players are ranked as follows:
10) David De Gea, Manchester United, GK — 90
9) Robert Lewandowski, FC Bayern, ST — 90
8) Jérôme Boateng, FC Bayern, CB — 90
7) Zlatan Ibrahimovi?, Manchester United, ST — 90
6) Gareth Bale, Real Madrid, RW — 90
5) Manuel Neuer, FC Bayern, GK — 92
4) Luis Suárez, FC Barcelona, ST — 92
3) Neymar, FC Barcelona, LW — 92
2) Lionel Messi, FC Barcelona, RW — 93
1) Cristiano Ronaldo, Real Madrid, LW — 94
A full list of FIFA 17's top 50 players is found on the official EA Sports website.
Soundtrack
The EA Sports FIFA franchise is acclaimed for its eclectic taste in music, and this year is shaping up to be no different. The FIFA 17 soundtrack features a wide-ranging array of artists including the likes of Beck, Capital Cities, Two Door Cinema Club, Kygo, Bastille, Phantogram, Glass Animals and more. 
The complete soundtrack is available on the EA Sports website, and a playlist has been created on Spotify for your listening pleasure. 
Latest news
EA Sports recently announced a Feature Set for the Xbox 360 and PlayStation 4 versions of FIFA 17. 
"There are console limitations so the feature set available for FIFA 17 on Xbox 360 and PlayStation 3 does not include all the same innovations and new modes that are available on Xbox One, PlayStation 4 or PC," the statement read.
The highly-anticipated "The Journey" story mode will not make the cut for Xbox 360 and PS3, but new changes are available for these editions nonetheless. Gameplay has been overhauled with new attacking techniques and set piece adjustments, along with new leagues and presentation.
A full rundown of the console difference is available here.