Inside the battle for marijuana legalization in 2016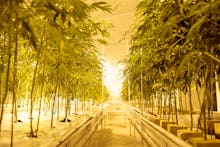 It's is a big year for marijuana in America.
This November, a record number of states will head to the polls to vote on major marijuana measures on their ballots, and the outcomes of those votes could play a pivotal role in determining future attitudes on pot in the United States.
Four states will seek to legalize medical marijuana for the first time. Of the 25 states which have legalized marijuana for medical use only, five will attempt to take it a step farther by putting the legalization of recreational weed to a vote.
Here are the states that will participate in historic votes on marijuana this Election Day.
Voting to legalize recreational marijuana:
Arizona
Arizona's voters will be tasked with making a decision on Proposition 205, which would allow adults ages 21 and over to possess up to one ounce of marijuana, which they would be permitted to consume in private.
The initiative would also allow adults to grow marijuana plants in locked, enclosed spaces in their own homes, according to Green Rush Daily, and would enact a 15% tax on all retail sales, which would go towards supporting the state's K-12 schools.
On September 7, azcentral.com reported that a new poll from Arizona Republic/Morrison/Cronkite News found that 50% of likely voters support legalization, 40% oppose it and 10% are undecided. 
California
As the Washington Post reports, an affirmative vote to legalize recreational weed in California would be a huge boon to the growing movement around full national legalization, and would also mean that the entire West Coast would have embraced total legalization.
According to a report by CNBC, the Golden State is already flush with kush — its share of medical green comprises the majority of the billion-dollar industry. 
Troy Dayton, chief executive of the ArcView Group, told CNBC that if California decides to legalize marijuana for adults, the state's already massive industry is primed to grow even larger.
"With the prospect of legalization on the helm, we're looking at the total market for legal cannabis in California to grow from $2.7 billion to $6.6 billion by 2020," he said.
Maine
Things are looking good for recreational marijuana in Maine. According to the Bangor Daily News, data from the Marijuana Policy Project found that 55% of respondents would support legalizing marijuana, while 41% said that they were "leaning or definitely against" Question 1, the measure that would allow citizens over 21 to posses up to two-and-a-half ounces of marijuana or six plants.
Massachusetts
Massachusetts has been lukewarm on approving full legalization, and the polling numbers suggest that the vote might come down to the wire.
In July, the Boston Globe reported on a survey from Gravis Marketing for Jobs First which found that 51% of respondents opposed the measure as compared to 41% support and 9% undecided.
Nevada
A KTNV-TV 13 Action News/Rasmussen Reports poll of 750 likely voters from July found that 50% of them would support Question 2, which would legalize the sale of marijuana in the state.
But Nevada is facing a unique hurdle: casino giant Sheldon Adelson, who has previously crusaded against medical marijuana in Florida, could infuse large sums of money into anti-legalization campaigns in the state to sway the popular opinion at the last minute.
States that will vote to legalize medical marijuana:
Arkansas
Two medical marijuana measures that would allow doctors to prescribe medical marijuana for sick and terminally ill patients are headed to the ballot in Arkansas this November.
Although the state narrowly voted down its last medical marijuana provision in 2012 by 51.4%, a June survey from local Little Rock affiliate KATV showed 58% support for measures that would allow sick patients to buy pot from regulated, not-for-profit dispensaries.
Florida
Although patients in the Sunshine State are already permitted to use cannabis oils with low levels of THC for medical purposes, the fight for more intensive treatments wages on.
If Florida adopts a measure legalizing medical marijuana, it would become the first southern state to do so.
Montana
Montana's situation is a bit tricky, since the state technically already legalized the use of medical marijuana in in 2004. But since then, the state's lawmakers have passed legislation that essentially prohibits medical dispensaries from turning a profit from their sales, mandating they can only recoup their licensing fees.
Ballot Issue 24 would overturn some of the limitations suffocating distributors, which in turn could revitalize the industry.
North Dakota
Many outlets were already reporting that just eight states would be voting for marijuana measures on the ballot this fall when North Dakota, the ninth, slid in at the last minute in August. 
If passed, the North Dakota Compassionate Care Act would make it legal for residents to possess up to three ounces of marijuana for medical needs, and would also allow them to grow their own small amounts for personal use, The Cannabist reports.
Although the states that border it to the east and west, Montana and Minnesota, have already legalized medical marijuana, North Dakota tends to be more conservative, so the jury's still out on which way the vote will swing.