Desiigner reportedly arrested in NYC for drugs, weapons following a "road rage incident"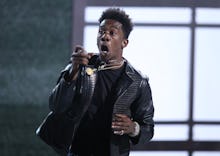 Sidney Royel Shelby III, better known by his stage name Desiigner, was arrested Thursday night in New York City along with four others following a traffic violation, as reported by TMZ. All five passengers were charged with criminal possession of a controlled substance and criminal possession of drugs with intent to sell.
"The people in the SUV and the driver of another vehicle began screaming at each other," the outlet reported. "The driver of the other car called 911 and claimed Desiigner pointed a gun at him. The SUV left but the driver of the car took down the license plate number."
A representative for the NYPD confirmed the arrest for Mic Friday morning, saying the rapper was arrested following a "road rage incident" the previous night. The department clarified the rapper was charged with criminal possession of a controlled substance with additional charges for menacing, criminal possession of a weapon.
Police reportedly found the loaded weapon along with loose pills including Oxycontin in the center console of the SUV Designer was driving. As of writing, the rapper was still being processed at the 14th precinct. 
Desiigner has enjoyed a chart topping rise in the rap industry with "Panda," a head banging club anthem that exploded following his self-releasing the track in December 2015. The hit was sampled in Kanye West's "Father Stretch My Hands" on The Life of Pablo. The rapper is currently scheduled to perform multiple concerts throughout October. 
Mic has reached out to Desiigner's team and will update as the story develops.