"Crossing Borders": The Special Relationship podcast tackles immigration reform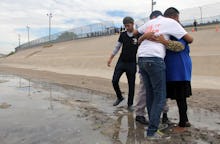 The latest episode of "Special Relationship," the trans-Atlantic politics podcast from Mic and the Economist, looks at the facts and feelings surrounding one of the thorniest issues of the 2016 campaign for the White House: immigration reform.
Listen to Episode 9 of "Special Relationship" here:
Subscribe to "Special Relationship" on iTunes, Google Play or anywhere you listen to podcasts. Please give us a rating and a review, and stay tuned for our tenth episode.