'Luke Cage' cast: Here's who will be joining the superhero in Harlem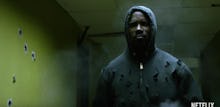 Marvel's newest original series for Netflix, Luke Cage, comes to the streaming service later this month. This is the penultimate Marvel series that will eventually culminate with the The Defenders in 2017. Essentially, they're gearing up for the TV version of The Avengers. 
In the meantime, however, Luke Cage will explore Harlem — a previously untouched area of Marvel's TV Universe (Jessica Jones and Daredevil were but a few subway stops away, based in Hell's Kitchen). Of course, a new locale means the show will bring new characters into the fray beyond just the titular Cage (Mike Colter) introduced in Jessica Jones.  
Here's who you can expect to join Cage come Sept. 30. 
Cornell "Cottonmouth" Stokes: Stokes (Mahershala Ali) is set to be the first season's primary antagonist, though seemingly without the quirky physical traits of his comic book counterpart (like his literal razor-sharp teeth). Like the comic source material, Stokes is a crime boss in Harlem whose empire ends up threatening Cage's world. Surmounting Cage, of course, presents daunting task for Stokes, considering the hero's indestructible skin. 
However, Ali says his character doesn't fit the traditional villain mold. Like many great villains, there's some humanity to him.  
"Cottonmouth on Luke Cage — he's really not a quote-unquote 'bad guy,'" Ali said in an interview with Deadline in August. "It's just being able to work against how those characters are often thought of, and sometimes written, to make them human; and therefore, making a character that the audience feels conflicted about. You can do a lot with those roles — you really can." 
Claire Temple: She doesn't sport an eyepatch like Samuel L. Jackson's Nick Fury, but Temple (Rosario Dawson) acts as the Netflix version of Fury, appearing across several series. The endgame is, seemingly, to unite Marvel's TV heroes together for The Defenders. She'll be appearing in Luke Cage as well, though it's unclear how big her role with be. 
It's important to note that Temple is a love interest of Cage in the comics, so it's possible the series will explore their relationship after Cage and Jones' falling out in Jessica Jones. 
Misty Knight: It might appear as an obscure inclusion, as Knight (Simone Missick) is known for sporting a Tony Stark-constructed bionic arm in the comics. But like Stokes, that'll likely be tempered down in Luke Cage. Knight will be playing a police detective, but not much else is known about the character. 
However, the Luke Cage trailer indicates that she'll have at least some involvement with Cage — likely with a smaller role as a protagonist.
Black Mariah: So here's an odd continuity problem for Marvel: Alfre Woodard was cast to play another villain in Luke Cage, Black Mariah — but she already made an appearance in the Marvel Cinematic Universe in Captain America: Civil War. 
For reference, she played the grieving mother who confronted Tony Stark after his speech at MIT, detailing her son's death in the fictitious country of Sokovia in Age of Ultron. That moment was pivotal, as it persuaded Stark to sign the Sokovia Accords and kickstart the film's central conflict between Stark and Captain America.  
Despite that, Woodard will be a new character in the series. Interestingly, while Black Mariah is a crime boss in the comics, Deadline describes her as "a powerful woman in local politics who will have an impact on Luke Cage's life." If the character does indeed turn villainous, that impact will likely be quite negative.