'Gears of War 4' release date, controller, trailer, demo and more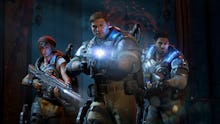 The Gears of War 4 release date is just over a month away. Last week, we previewed Microsoft's new action-adventure shooter's gameplay, but there are a few additional tidbits. 
Release Date
Gears of War 4 arrives on the Xbox One and Windows PC Oct. 11. Pre-orders are currently available. If you buy the Ultimate Edition you get a bumped-up release date of Friday, Oct. 7, as well as several in-game bonuses. 
Trailer
Gears of War 4's "Tomorrow" trailer delves into the game's campaign mode, which centers on protagonist JD Fenix, the son of famed war hero Marcus Fenix.
A new multiplayer trailer, which details Gears of War 4's five-player co-op mode, Horde, recently premiered as well.
Controller
Microsoft is releasing a special gamepad dedicated to Gears of War 4. The Xbox Elite Wireless Controller - Gears of War 4 Limited Edition features a customized design, swappable thumbsticks and D-pads and exclusive in-game item, among other things. It's available for pre-order on the official Xbox website.
Demo
No playable demo is available as of now, but with a month to go until the Gears of War 4 release date, expect an announcement soon. Mic will keep you updated.