iPhone 7 vs Samsung Galaxy S7: Which one should you get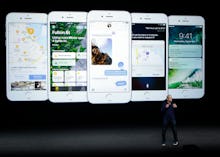 Now that Apple has unleashed the iPhone 7 upon the world, consumers are faced with a choice: iPhone 7 or its rival, the Galaxy S7? Here's what you need to know about each phone in order to make a fully informed decision.
Screen: The Galaxy S7 features a Quad HD super AMOLED display, known for making colors pop and preserving battery life, on a 5.1" screen. The iPhone 7 has a Retina HD display with a 4.7" screen. The Retina display, which is an Apple technology, is distinguished by the sharpness of the picture. 
Storage: The Galaxy S7 starts at 32 GB of storage, expandable up to 256 GB. The iPhone 7 comes in 32 GB, 128 GB and 256 GB of storage. 
Camera: Both phones feature a 12-megapixel rear-facing camera optical image stabilization which reduces blurring caused by shaky hands. But in the age of the selfie, it's all about that front-facing camera. While the iPhone 7 upgraded its camera to a 7-megapixel, the Galaxy S7's 5-megapixel is boosted by its dual pixel sensors which offers speedy autofocus.
Water resistance: The iPhone 7 is splash, water and dust resistant with a water resistance rating of IP67, which means that it should survive being about 3 feet underwater for up to a half hour. The Galaxy S7, on the other hand, can handle up to 30 minutes in 5 feet of water. Klutzy people, take note.
For many consumers the choice of phone will likely be pretty personal. And plenty of Apple loyalists may stick with the iPhone through and through. But the two phones are comparable on paper. Just don't get a Samsung Galaxy Note 7, those explode.