Wiz Khalifa slut-shamed Amber Rose, the queen of clapbacks — and she's not having it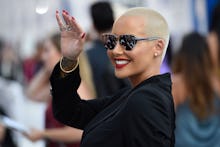 On Thursday, Amber Rose debriefed what she called a "fucking horrible" threesome on her podcast Loveline with Amber Rose. The actress, model and unofficial queen of clapbacks said there wasn't enough "kissing and rolling around" for a self-professed "passionate lover" like herself.
"Maybe I'll just call my baby daddy over tonight... get a little something," Rose said.
But Wiz Khalifa, the aforementioned baby daddy, didn't take too well to Rose's comment, writing on Twitter, "Not here for your rebound after your threesome. Only peace and love."
In a now-deleted tweet, Wiz Khalifa continued, "If I were to say, 'I fucked two bitches last week and it was wack. I think Ima just call my baby's mom,' would you feel flattered?'"
Rose, who has been slut shamed by exes before, chose to laugh off the incident. She wrote on Twitter, "I'm getting publicly slut shamed... again. For the same things he does all the time... great." 
It's almost amazing anyone comes for Rose at all, considering she's made it more than clear she'll take down anyone who slut shames her or any woman for that matter. Among others, Rose has come to the defense of Kim Kardashian West and Taylor Swift, happily pointing out that women shouldn't be punished for expressing their sexuality.
Hell, she even wrote a book on the subject called How to Be a Bad Bitch.
"I used to call women sluts and whores all the time," she told the Guardian following the book's release. "Because that's what society taught me: that that was OK and that it was what I was supposed to be doing. But I grew up, and I have seen these issues, and I have become very passionate about it. I am a former slut shamer and a newfound feminist."
Praise be.