'Forza Horizon 3' demo, car list, release date, trailer and latest news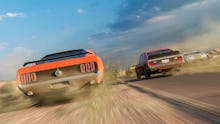 Forza Horizon 3 is on the... well, horizon, with a release date of Sept. 27. Ahead of the of the racing series' ninth installment, anticipation is growing as a demo is poised to arrived any day now. Here's what we know about Forza Horizon 3 thus far:
Trailer
The official Forza Horizon 3 E3 trailer showcases some gorgeous Australian scenery, and even more gorgeous racing cars. 
Demo news
According to a Microsoft Store listing, the Forza Horizon 3 demo will be released on Sunday Sept. 11 at 8:00 p.m. — no time zone is specified. Besides listing the download size of 18.34GB, no other information is provided, but it seems likely the demo will arrive this weekend. 
Car list
The amount of vehicles included in Forza Horizon 3 is staggering — there are too many to note them all here. The list appears to be growing, and a recent post on the Forza Motorsport website teased some new offerings: 
For a complete list of revealed cars in Forza Horizon 3, head to the official website.