M.I.A. explains why the refugee crisis shouldn't be nearly as controversial as it is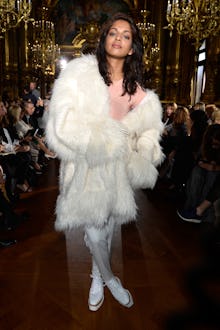 M.I.A.'s latest and possibly final official studio album AIM was released Friday and features several nods to the global refugee crisis and cultural and religious tolerance in general. As a Muslim Sri Lankan activist and artist based in London, these statements come from long held beliefs she's been repeating since 2005, and explains again in a new interview with Consequence of Sound's Lior Phillips.
"These immigrants and refugees are a faceless concept used to make people scared," M.I.A. said in the interview. "We're having huge political changes in the West based on it. There's a massive shakedown going on, and people's lives are changing based on this word, 'refugee' and 'immigrant.' It's like basically District 9, but we're the aliens."
There's nothing strange about refugees, as she explains in the interview, though much of the xenophobic rhetoric in national and international politics often attempts to paint them as such. 
"Refugees are just a byproduct of a war that happened for no reason, and a lot of them just want to go back home," M.I.A said, recounting her visits to certain refugee camps abroad. "A lot of the immigrants I met in the camps, all of them say to me, 'We want to go back. We want to go back to our house. I want to get my kids back into the life we had. There was nothing wrong with it before the bombs started dropping.'"
She's explored the quandary in several of her album's cuts. On "Borders," the first music video single to be released ahead of AIM, M.I.A. offered a bold visual dramatization of the crisis.
The video shows refugees marching in single filed lines toward overtly high chain link fences, as M.I.A. appears on a small boat loaded with young men. M.I.A. directed the eye-opening video herself, essentially calling out international governments to recognize the way they're treating these people.
Her outspokenness on this issue has turned M.I.A. into somewhat of a villain in the music industry, something too divisive for blogs to touch. It's nothing short of baffling, as she sees her message as one of unity and little else.
"I think this album, I wasn't thinking I was controversial," she told Consequence of Sound. "I was actually thinking, 'Wow, the messages are so simple. It's annoying that I have to be that straightforward.'"
Read M.I.A.'s full interview here.