Will Seattle Seahawks players join Colin Kaepernick's protest? Here's what we know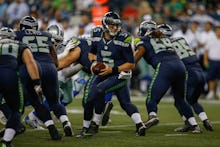 On Aug. 26, as the Friday night lights beamed down and the national anthem blared out across Levi's Stadium, the home field of the San Francisco 49ers, quarterback Colin Kaepernick refused to stand.
In a postgame interview, Kaepernick told NFL.com that he was "not going to stand up to show pride in a flag for a country that oppresses black people and people of color."
"To me, this is bigger than football and it would be selfish on my part to look the other way," Kaepernick said. "There are bodies in the street and people getting paid leave and getting away with murder."
It was a small act of nonviolent protest that sparked copycat gestures across the nation, with everyone from the West Virginia University's Institute of Technology women's volleyball team to soccer star Megan Rapinoe following Kaepernick's lead.
Now, it looks like the Seattle Seahawks may join in too.
In an interview Wednesday with the Seattle Times, Seahawks linebacker Bobby Wagner said the team was planning to expand upon Kaepernick's resistance — together.
"Anything we want to do, it's not going to be individual," Wagner said. "It's going to be a team thing. That's what the world needs to see. The world needs to see people coming together versus being individuals."
By Thursday, rumors were swirling that the Seahawks were planning some form of protest against the national anthem that would be set into motion during their Sunday afternoon game against the Miami Dolphins.
The Seattle Times reported Friday that DuPont Mayor Mike Courts had canceled a rally in honor of the team scheduled for Saturday.
"I believe the controversy surrounding the potential protest at the Seahawk game makes it inappropriate to commit city resources to an activity that may be misunderstood or prove offensive to a large number of our residents," Courts wrote in a Facebook post.
So, what grand gesture do the Seahawks actually have planned for Sunday's game?
Although no one will know for sure until then, according to the News Tribune, Seahawks wide receiver Doug Baldwin said the team is aware the game falls on Sept. 11, a day of patriotism and remembrance in the United States, and promised that nothing disrespectful is planned.
"I think that anybody should be thinking about that — even if it wasn't Sept. 11," Baldwin said. "... I think it's very ironic to me that 15 years ago, September 11th, 2001, one of the most devastating times in U.S. history, after that day we were probably the most unified that we've ever been. And today, we struggle to see the unity."