Elizabeth Warren campaigns to be Hillary Clinton's progressive conscience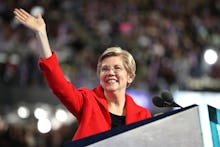 PHILADELPHIA — Sen. Elizabeth Warren of Massachusetts hit the campaign trail here on Friday afternoon, addressing 800 supporters in a stifling auditorium on the University of Pennsylvania campus at an event organized by the campaign of Hillary Clinton.
It was Warren's first formal appearance on behalf of Clinton since the Democratic National Convention in July. She appeared alongside Katie McGinty, the Democratic candidate for Senate who's locked in a tight race with Pennsylvania's incumbent senator, Republican Pat Toomey. Clinton's lead in Pennsylvania has been cut in half over the past month, and her campaign has unleashed a slew of surrogates to shore up support in state, particularly among women.
But Warren offered little affirmative praise for Clinton's progressive bona fides. Instead, she came armed to the teeth with takedowns of Toomey and Donald Trump, whom she called "a small insecure money grubber who will never be president of the United States."
Warren's decision to focus on attacking Trump and Toomey was a reminder of the complex, often-awkward dynamic between Clinton and the Massachusetts senator, one that played out during the primary campaign between Clinton and Sen. Bernie Sanders, in which she largely sat on the sidelines.
While Warren shares common cause with Clinton over the last two months of the campaign, in Philadelphia she again demonstrated that she sees her primary role not as a Clinton surrogate, but as the country's leading defender of progressive priorities.
Trump slayer-in-chief: At Penn, Warren reprised her role as the Democratic Party's chief attack dog, and those in the mostly young, white crowd found themselves on their feet as she unleashed a barrage of harsh critiques against Trump.
With McGinty seated behind her on stage in the dimly lit auditorium, Warren spent the first eight minutes of her speech discussing her own legislation to address the high cost of college. She noted that Toomey had voted against a measure that would allow students to refinance their loans to lower their interest rates. She railed against the federal government profiting from the interest on student loans. She asked for a show of hands for anyone in the crowd who had student loans. Dozens of hands shot up.
She then pivoted to attacking Trump on his record on education, particularly with regard to Trump University, the now-defunct for-profit venture that is the subject of a lawsuit by students who allege it was a scam.
Warren tied Toomey directly to Trump, saying "the game is rigged, and the Republicans rigged it. And that is why Hillary Clinton and Katie McGinty and I are going to work together to unrig it."
Battles ahead: To "unrig" the system, Warren not only needs Clinton to win in November. She also needs Democrats to regain control of the Senate, which explains her focus on tearing down Toomey and Trump at Penn on Friday.
Yet even if Democrats take the Senate, Republicans are still likely to retain control in the House. Such a dynamic — a Democratic White House and Senate, and a GOP-controlled House — would require Clinton to compromise with Republicans to pass actual legislation. Liberals are already anxious over which policies will be on the bargaining table.
That anxiety explains why Warren is positioning herself to be not just an attack dog but also the liberal conscience of the party. Attacking Republicans and boosting fellow Democrats means she will enter 2017 with the leverage to hold Clinton accountable on the issues most important to her and the party base.
Warren would not shy away from confronting Clinton — she has repeatedly squared off with current Democratic occupant of the White House. In 2015, she successfully blocked the Obama administration's appointment of a former Goldman Sachs banker to the Treasury Department, and she routinely chastises the Department of Education for failing to crack down on predatory student loan practices.
And her willingness to exercise her influence on a future Clinton administration is already on display. On Tuesday, Politico reported that Warren and her allies are already working to put pressure on the Clinton transition team to hire "Warren-like people" in a future administration.
Following the bruising primary battle between Clinton and Sanders, Warren's endorsement of the former secretary of state was considered a key step in uniting the party. But Warren's recent maneuvers show that there are plenty of battles ahead that will pit the liberal wing of the party against a Clinton administration. She intends to remain on the front lines.