Trump is a hell of a problem for the religious right. They're just glad he's not Clinton.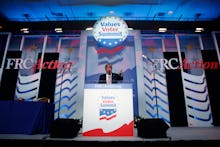 WASHINGTON — If Donald Trump didn't completely bring down the house in his address to the Values Voter Summit on Friday, he didn't have the door to the house slammed in his face, either.
There's never been a question that Trump isn't the central casting conservative candidate. Still, Friday's speech — delivered from a teleprompter — did hit some crowd-pleasing notes.
And it came as religious conservative voters face a simple reality: If they don't propel Trump to the White House, their next president will be Democrat Hillary Clinton.
Trump has never been a fire-and-brimstone candidate on the level of a Ted Cruz or a Rick Santorum, and Friday's remarks steered notably clear of standard lines that often electrify Christian conservative crowds.
The Manhattan mogul's speech wasn't a paean to the belief that "marriage" means one man and one woman and nothing else. There was none of the classic candidate rhetoric about life beginning at conception or abortion being a one-way ticket to national damnation.
Instead, Trump couched his general election pitch in a combination of his classic campaign swagger and general but reassuring promises.
He vowed that if elected, he'd use late Supreme Court Justice Antonin Scalia as a benchmark for what a nominee should stand for. He paid homage to late conservative icon Phyllis Schlafly, who died earlier this week.
"All religious leaders should be able to freely expose their thoughts and feelings on religious matters, and I will repeal the Johnson Amendment if I am elected your president. Promise," Trump said, referring to the rule that prohibits tax-exempt organizations from making political endorsements.
Trump, who greeted the religious crowd after being talked up by the likes of Rudy Giuliani and actor Jon Voight, also vowed to get rid of Obamacare and drive the issue of school choice — a matter of deep importance to voters who want the option of parochial and home schooling.
And if he didn't go far enough for the taste of some of his deeply religious listeners on matters of faith, he sough to woo them with scathing remarks about his Democratic rival, Hillary Clinton and her qualifications for the job.
"For me, religious freedom and sanctity of life are two huge issues. Those are top for me... and he champions both of those issues," said Savannah Holsten, a 21-year-old Republican from Denver and a student at Liberty University.
While Marco Rubio was her first choice, she said she thinks Trump's really stepped it up as a candidate in the past few months.
Are the most conservative segments of the party faithful coming to terms with the fact that it's essentially come down to either the thrice-married Trump, a man who consorted and donated to Democrats — including Hillary Clinton herself — before taking a hard right turn as a GOP hopeful and now nominee?
A quick survey of those who listened to his speech suggests more than a few are in the lesser-of-two-evils camp.
"He avoided the LGBT topic because he's trying to get their votes, and about the whole abortion thing, he hasn't been as open about it as I would like," said Elizabeth Wegeman, a homeschooler from Delaware.
"He's not a staunch conservative, but the things that he's doing will help us," she said, adding that the long-documented conservatism of Trump's running mate, Indiana Gov. Mike Pence, goes a long way toward allaying her concerns about the ticket.
As for Trump, "I very much doubt this level of Christianity and how sincere he is about Christianity — but unfortunately, we have him or we have Hillary, and you know..."
It seemed that the crowd, in fact, did know.
Donald Trump didn't win a majority of GOP primary votes to score the nomination. Most of the people in the room Friday would naturally lean toward a GOP nominee, and the mention of Clinton's name didn't seem to thrill those in the audience.
That Trump hasn't quite satisfied everyone at the Values Voter Summit could be a warning sign that he's still got to fight to get conservatives to the polls in November.
That they're more scared of a President Clinton than of a President Trump gives him some room to move.