Secretary of State John Kerry announces Syria ceasefire deal, set to begin on Monday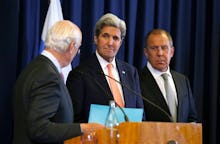 The United States and Russia announced a groundbreaking development to stop the conflict in Syria on Friday. After a negotiating session in Geneva, Switzerland, U.S. Secretary of State John Kerry announced a ceasefire set to begin on Monday at sundown in the war-torn country, according to the Associated Press.
"Today the United States and Russia are announcing a plan which we hope will reduce violence, ease suffering and resume movement toward a negotiated peace and a political transition in Syria," Kerry said. "We are announcing an arrangement that we think has the capability of sticking, but it is dependent on people's choices."
For the pact to hold, the Syrian government and its opposition must halt hostilities for seven days, and Syrian President Bashar al-Assad is prohibited from flying combat missions in the area. Then, the U.S. and Russia would begin coordinating its military intelligence to stop al-Qaeda's affiliate in Syria, according to CNN.
President al-Assad and his government have been notified of the deal and are prepared to comply with the terms.
Russian Foreign Minister Sergei Lavrov said this deal is "just the beginning" of a new relationship with the U.S. and Russia. Kerry called the announcement a potential "turning point" for conflict in Syria, in which over 470,000 people have been killed.