At least 23 dead after Bangladesh factory explosion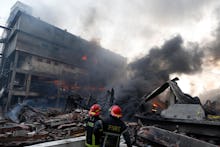 A suspected boiler explosion inside of a four-story food and cigarette factory in Bangladesh on Saturday has left at least 23 dead and dozens more injured, Reuters reported.
More than 20 teams of firefighters were on the scene at the Tompaco Foils Ltd. building near Dhaka, the country's capital, to quells the flames, according to Reuters, which also caused a partial collapse.
On its website, Tompaco Foils lists British American Tobacco and Nestlé among its brands. 
A fire official, Mohammad Akhtaruzzaman, told Reuters that the blaze had been contained, but said that rescue efforts by officials are ongoing.
"We cannot confirm if people are inside, but our priority is to rescue them if there is anyone," he said.
Mohammad Nayan, a rescue worker, told reporters that there were "about 100 people inside when the fire broke out," in the building, which is located in the Tongi packaging district. 
For those who toil in Bangladesh's factories, hazardous working conditions are nothing new.
In 2013, the Rana Plaza building just outside of Dhaka collapsed, killing 1,135 factory workers trapped inside. According to Reuters, the incident was one of the "worst ever industrial accidents."