Brandon Marshall lost a sponsorship deal for kneeling during the national anthem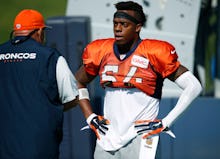 Denver Broncos linebacker Brandon Marshall stood up for what he believes in, and it just cost him a major endorsement deal.
During a Thursday game against the Carolina Panthers, the Denver Broncos linebacker took a knee during the singing of the national anthem in solidarity with the silent protest first started by his friend and former teammate, San Francisco 49ers quarterback Colin Kaepernick.
On Friday, Glenn Strebe, the CEO of Air Academy Federal Credit Union, announced on Facebook that the organization would be ending its partnership with the NFL star as a result of his actions.
"AAFCU is a membership-based organization who has proudly served the military community for over 60 years," the statement reads in part. "While we respect Brandon's right of expression, his actions are not a representation of our organization and membership."
In an interview with the Denver Post after news of the severed endorsement deal broke, Marshall said that he expected the fallout — but didn't regret anything.
"Absolutely they were worth the consequences," he said. "I lost an endorsement, but that's OK. I figured some sort of repercussion would happen. It's what I thought about, and I still made the decision to do it. I can live with it."
But while he said that the negative reactions to his protest didn't bother him, Marshall did seek to clarify that it wasn't intended as an "anti-police" display.
"I'm not against the military. I'm not against the police, or America. I'm just against social injustice," Marshall told the Post. "I'm proud of it. I don't regret it. I know this is right."
On Friday, Marshall shared an image featuring the quote with his followers on Instagram.
He also told the Post he planned to donate to "several charities to help veterans," as well as social justice initiatives.
Marshall isn't the only NFL player kneeling in solidarity with the movement Kaepernick started. In an interview with the Seattle Times, Seattle Seahawks linebacker Bobby Wagner said that the entire team was planning something for their Sunday night game, but declined to give specifics.
"Anything we want to do, it's not going to be individual," Wagner said. "It's going to be a team thing. That's what the world needs to see. The world needs to see people coming together versus being individuals."