John Hinckley Jr., man who shot Ronald Reagan, released from institution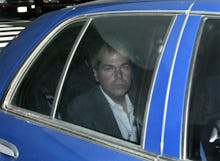 Authorities released John Hinckley Jr., the man who shot President Ronald Reagan, his press secretary James Brady, and two law enforcement personnel in a 1981 assassination attempt in Washington, D.C., from a mental hospital on Saturday, NBC News reported.
The 61-year-old will live with his mother in Williamsburg, Virginia, as a free man. However, Hinckley will not be allowed to approach the families of Reagan and others affected by his crimes, and he will live under other restrictions on his use of the internet and a ban on traveling more than 50 miles away from home.
District Judge Paul L. Friedman wrote Hinckley no longer displays any "signs of psychotic symptoms, delusional thinking, or any violent tendencies," and that psychiatric treatment has been effective for the would-be presidential assassin for several decades. According to the Washington Post, Hinckley has already spent some time outside the Washington psychiatric hospital where he has resided for years, spending "more than half" of his days at his mother's residence.
Hinckley shot Reagan as part of an attempt to impress actress Jodi Foster, and successfully plead insanity during his trial, resulting in many states and Congress implementing stricter rules on the use of the defense soon after. 
Brady died of complications from his injuries in 2014, though Reagan, D.C. police officer Thomas Delahanty and Secret Service agent Timothy McCarthy all recovered from gunshot wounds suffered during the incident.
"I have a lot of not very great Christian thoughts about him," McCarthy, who is now the police chief of Orland Park, Illinois, told the Post. "It was a terrible act. It's unforgivable as far as I'm concerned ... I  don't have to agree with it, but I expected it. There are very few cases that people, after a period of time, are not viewed as no longer being a danger to themselves or others."
Saturday, Sept. 10, 2016 at 5:25 p.m.: This article has been updated.