England and Wales police may make misogyny a hate crime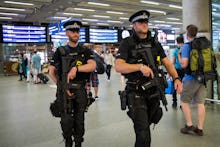 A number of police forces in England and Wales are considering expanding the definition of a hate crime to include misogynistic practices from "street harassment to unwanted physical approaches," the Guardian reported on Saturday, following an experiment in Nottingham which saw specially trained officers investigating claims of such behavior every three days in July and August.
The crackdown in Nottingham resulted in two arrests for "public order offences and actual bodily harm in incidents classified as misogynist," according to the Guardian. 
The rules in Nottingham target "Incidents against women that are motivated by an attitude of a man towards a woman and includes behaviour targeted towards a woman by men simply because they are a woman," according to Newsweek.
"What women face, often on a daily basis, is absolutely unacceptable and can be extremely distressing," Chief Constable Sue Fish told the BBC. "Nottinghamshire Police is committed to taking misogynistic hate crime seriously and encourages anyone who is affected by it to contact us without hesitation."
"Women are groped, or groups of lads shout abuse or very sexualised comments at them," Nottingham Women's Centre manager Melanie Jeffs told the Guardian. "We have incidents of sexual touching, women being grabbed and men trying to get women into a car with them ... [now] we've had women say how proud they are to be from this city, and that this makes them feel like they're walking 10 feet taller."
As the Daily Beast noted, investigations into reported incidents will be treated and handled as a hate crime, and officers will offer support to victims, but the hate crime provision does not necessarily equate to a criminal offense.
Police representatives from Devon and Cornwall, Durham and Lincolnshire and elsewhere are convening with those from Nottingham to learn more about the initiative and its impact, according to the paper.