Hillary Clinton leaves 9/11 memorial ceremony early after feeling overheated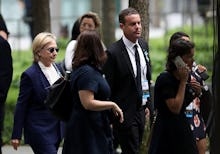 Hillary Clinton was forced to leave a 9/11 commemoration ceremony early Sunday after she reportedly fell ill, NBC News reported. According to a statement from Dr. Lisa R. Bardack, Clinton's physician, the candidate was diagnosed with pneumonia on Friday and prescribed antibiotics. 
As NBC News previously reported, citing "two senior law enforcement officials," Clinton may have fainted shortly before leaving the ceremony by van.
Video that surfaced later in the day seemed to confirm the reports.
According to CNBC, Clinton campaign officials released a statement saying Clinton left the ceremony after 1 hour, 30 minutes because she "felt overheated," and immediately headed to daughter Chelsea Clinton's apartment to rest. A campaign spokesman added that she's now feeling much better, which Bardack confirmed, attributing the incident to Clinton's being overheated and dehydrated.
Video taken later in the day showed Clinton smiling and waving to crowds as she left her daughter's apartment.
Sept. 11, 2016, 5:45 p.m.: This post has been updated.