Kylie Jenner wears du-rag to NYFW, prompts Twitter backlash for cultural appropriation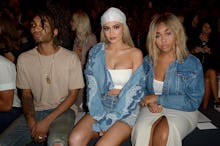 Wouldn't you know it, Kylie Jenner wore a du-rag to New York Fashion Week, giving fans and casual observers an opportunity to remind her that cultural appropriation is a thing, that she's doing it and also that she should stop, please.
Jenner was photographed sitting front-row at Jonathan Simkhai's Spring 2017 show in New York City on Saturday, in a white bandeau / embellished Canadian tuxedo ensemble, which she topped off with a du-rag.
The teen entrepreneur and social media celebrity posted pictures of her du-rag-and-denim-playsuit-clad self to Snapchat, where she quickly rekindled cries of cultural appropriation.
"WOW. AM I THE ONLY PERSON MAD THAT KYLE JENNER HAS ON A DU-RAG?" one user asked — probably rhetorically, because this is Twitter we're talking about.
And indeed, the social media site became a sea of rolling eyes as users vented their annoyance and frustration with Jenner, who just doesn't seem to learn.
This is not the first time Jenner has attracted criticism for wearing a du-rag, nor is it the first time she's fielded accusations of cultural appropriation. At the last NYFW, her Yaki ponytail had many people shaking their heads, and then there is her ongoing and problematic love affair with cornrows.
Jenner does not appear to be oblivious to the uproar. In August, she not only expanded her ridiculously popular Lip Kit line to include nude shades for darker skin tones, but also enlisted black models to show them off. Her followers responded with an enthusiastic thanks for finally highlighting the beauty of black features on black women.
It would appear that Jenner, in some ways, gets it, or is at least beginning to. Maybe. But then why is she back at it with the du-rag?