Chelsea Manning begins hunger strike to protest her treatment in all-male prison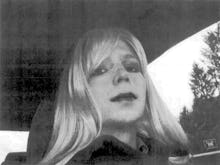 On Friday, Chelsea Manning announced that she would be initiating a hunger strike in order to protest her prison conditions. The former U.S. Army intelligence analyst is currently serving a 35-year sentence for leaking classified documents to WikiLeaks.
In the statement released by advocacy group Fight for the Future, Manning detailed the torment and harassment she has endured thus far as a transgender woman residing in a men's prison.
This comes after an attempted suicide in July, for which Manning was threatened with indefinite solitary confinement.
"I need help. I needed help earlier this year. I was driven to suicide by the lack of care for my gender dysphoria that I have been desperate for," Manning wrote in the statement. "Today, I have decided that I am no longer going to be bullied by this prison — or by anyone within the U.S. government." 
As part of the protest, Manning said she will not cut her hair, consume food, or drink voluntarily except for water and medications. She also emphasized that this would be a peaceful protest.
When Manning was first sentenced, she announced that she identified as a woman, and later obtained legal authorization to change her name and receive hormone replacement therapy. Despite suing the government, Manning is still required to wear her hair short in accordance with male military grooming standards, CNN reports.
"In response to virtually every request, I have been granted limited, if any, dignity and respect. Just more pain and anguish," Manning wrote. "Until I am shown dignity and respect as a human again, I shall endure this pain before me, I am prepared for this mentally and emotionally. I expect that this ordeal will last for a long time. Quite possibly until my permanent incapacitation or death." 
Fight for the Future has since launched a petition to provide support for Manning during her hunger strike.