Arrest warrant issued for Amy Goodman for filming Dakota Access Pipeline protests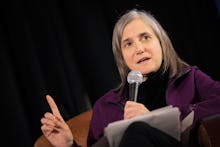 Journalist Amy Goodman recently filmed the Dakota Access Pipeline company turning dogs on protesters; now, there's a warrant out for her arrest in Morton County, North Dakota. Goodman is charged with the misdemeanor offense of criminal trespassing.
"This is an unacceptable violation of freedom of the press," Goodman said in a statement, according to Democracy Now!, the publication for which she works. "I was doing my job by covering pipeline guards unleashing dogs and pepper spray on Native American protesters."
On Sept. 3, Goodman was covering a clash between DAPL officials and indigenous individuals who'd shown up to protest the construction on the nearly 1,200-mile long oil pipeline, which would extend from North Dakota, through South Dakota and Iowa, all the way to Illinois. 
Also known as the Bakken Pipeline, the $3.8 billion project upset local tribes because it threatened both the Missouri River and ancestral land. It prompted protests, which came to a head over Labor Day weekend, when DAPL used dogs and pepper spray on Native American activists. Goodman captured it all on camera, and after the video went viral, authorities got involved. 
In the meantime, the Department of Justice halted construction on the access pipeline while it appraised concerns the Standing Rock Sioux Tribe voiced. 
According to the Grand Forks Herald, 38 people were arrested after the DAPL protests, and Goodman isn't the only big name with a warrant on her head: The Morton County sheriff's department is also after Green Party candidate for president Jill Stein, who is charged with criminal trespassing and criminal mischief for having spray-painted construction equipment.