Military regulations on abortion put pregnant women with Zika at risk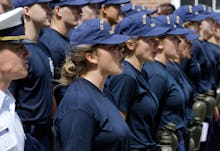 Last week, Congress finally agreed on a measure to stop the spread of the Zika virus, allotting $1.1 billion to combat the infection, which has been linked to severe birth defects in developing fetuses.
But one group vulnerable to the virus has been left out of congressional aid efforts: women in the military.
According to a Sept. 28 estimate from the Department of Defense, at least 128 beneficiaries of the military healthcare system — including female service members and their families — had been infected with Zika this year. The virus, which can cause mild fever, rash and joint pain, is rarely fatal in adults but has far more dire consequences for pregnant women. In infants whose mothers are infected during pregnancy, the virus can cause a neurological condition called microcephaly, which inhibits fetal brain development. Because of the risks Zika poses to fetuses, a Sept. 12 poll from abortion rights group NARAL Pro-Choice America found that 64% of voters in battleground states would not support a candidate who would deny women with Zika access to abortion. 
But pregnant women who are enrolled in TRICARE, the military's health care program, will find themselves in a difficult situation should they try to have an abortion after contracting Zika: If beneficiaries want to terminate their pregnancies, they must find a way around military restrictions that preclude TRICARE from paying for the procedure and forbid the procedure from being performed on military bases. If they don't, they have no choice but to give birth to a child who may have serious and costly developmental disabilities.
"The Zika problem is just another problem that's highlighting the military's lack of a comprehensive approach to reproductive healthcare," Dr. Daniel Grossman, a professor at the University of California, San Francisco and a senior advisor for Ibis Reproductive Health, said in a phone interview.
"When it comes to reproductive rights [and] seeking an abortion, women are forced outside of that system completely." 
Much like the Hyde Amendment, which restricts the use of funds from federal insurance programs to pay for abortions with few exceptions, two major restrictions on TRICARE effectively exclude abortion as an option for women who enroll in the plan. Under a 1984 federal law, Department of Defense funding — which pays for TRICARE — cannot be used to perform abortions, except in cases of rape, incest or life endangerment. Federal law also prohibits abortions from being performed at military treatment facilities, even if patients plan to pay for the procedure out of pocket.
In order to terminate a pregnancy, then, women enrolled in TRICARE have to find an alternative health care provider and cover the cost of the procedure themselves, according to Perry O'Brien, a veteran army medic and political organizer.
"One of the things that's good about TRICARE and the VA healthcare system is coordinated care. Whether you're active duty or a spouse, you go from post to post and can go overseas and there's a continuity of care," O'Brien said in a phone call. "When it comes to reproductive rights [and] seeking an abortion, women are forced outside of that system completely, and are thus being denied one of the greatest strengths of the military healthcare system."  
These longstanding issues of accessing comprehensive reproductive health care have only become more pronounced in the face of Zika. Many service members already face concerns about how cost and career flexibility impact their reproductive decisions even without the threat of the virus: According to a 2011 study Grossman and his colleagues conducted, more than three-quarters of service women seeking abortions while stationed abroad said it was not a good time to have a baby. That sentiment was reflected in another of Grossman's studies, which found the age-adjusted rate of unintended pregnancy in the military to be significantly higher than the general population — 78 unintended pregnancies per 1000 women of reproductive age compared to 52, respectively. 
In addition to enforcing strict mosquito control programs, the Pentagon has offered at-risk service members and their families the opportunity to relocate in response to the Zika outbreak, according to an email from DoD spokesman Maj. Benjamin Sakrisson. Critics, however, say the relocation process can take several months, and say the proposal skirts the larger issue: lack of access to reproductive and sexual health services for military women. 
"Access to contraception really varies — by commander, and somewhat by branch," according to Grossman. He noted that the military "should have every interest in helping women who don't want to get pregnant avoid pregnancy" but doesn't do so in a consistent manner.
"If you're a military person who wants to be pregnant, or a spouse who wants to get pregnant, there's not a lot of flexibility in your career path." 
None of this is to say that women in the military (or military spouses) who might be at risk of Zika should necessarily avoid pregnancy if they are planning to have children, or that they should have abortions if they do become pregnant. The point is they, like their civilian counterparts, should have a choice about their reproductive futures, yet often don't.
It's a problem even without factoring in the threat of a Zika infection. The relatively lower rate of planned pregnancies in the military could be attributed in part to servicewomen's limited access to contraception and sexual health information, as well as pressures placed on them not to have kids.
"If you're a military person who wants to be pregnant, or a spouse who wants to get pregnant, there's not a lot of flexibility in your career path," Margot Beausey, a navy veteran and women's health advocate, said in a phone call. "There's a lot of stigma about people who get pregnant right before deployment. ... Everyone says, 'Women are going to start dropping like flies to get out of this deployment.'"
O'Brien agreed there are "huge cultural pressures" on women in the military who might be considering getting pregnant, which he said can be seen as "taking an out" regardless of the pregnant service member's motivations. Even in the case of unintended pregnancy, pregnant servicewomen require time off and out of theater. But, as Grossman has found in his research, what most women in the military want is "to get back to the job they were sent to do as quickly as possible." 
Impediments to accessing abortion, however, make that challenging for servicewomen and military spouses seeking the procedure. For people with pregnancies they hope to carry to term, but who might be at risk of contracting Zika because of where they or their spouses are stationed, the military's relocation solution might make sense; maybe they would have made the same decision the Pentagon made for them. For others, it's not enough.
"We're now saying that women can put their bodies on the line alongside men, and accept equal risks of physical harm," O'Brien said. "And yet, they don't have the same equal rights over their bodies that their civilian counterparts do."
Correction: Oct. 5, 2016