Alabama football announcer reportedly calls for national anthem protesters to be executed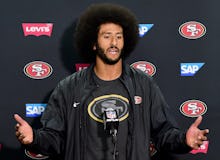 At a Friday night high school football game in Alabama's Butler County, an announcer took the opportunity to share his belief anyone who refuses to stand during the national anthem should be "shot."
"If you don't want to stand for the national anthem, you can line up over there by the fence and let our military personnel take a few shots at you since they're taking shots for you," said Pastor Allen Joyner of Sweet Home Baptist Church at the McKenzie High School football match, reported AL.com on Saturday.
According to AL.com, a relative of Joyner's posted a photo of the field with the pastor's words as a caption, generating more than 4,700 shares and 50 positive comments before it was deleted Saturday afternoon.
In a subsequent statement, Pastor Joyner said he was misquoted, reported the Greenville Advocate; in a statement, he wrote "I deeply regret that the comments I made were misquoted ... I never said anybody should be shot. My words were 'If you don't want to stand for the national anthem, please go sit at the baseball field and let some of our folks take a shot at reminding you of the price our military paid for your freedom to sit.'"
Joyner was clearly referring to Colin Kaepernick, the San Francisco 49ers quarterback who in recent weeks has refused to stand during the national anthem before games as a protest against racism and police brutality. Despite criticism from fellow players, commentators and others, Kaepernick's protest has successfully drawn a lot of attention. Not only did the QB survive demands for his purge from pro football, but his jersey has become the NFL's top seller and Kaepernick is now one of the most talked-about players in the entire league, according to the Mercury News.
While Joyner said he was misquoted, school officials had already denounced the widely reported version of what Joyner had said.
"Patriotism should be a part of school events but threats of shooting people who aren't patriotic, even in jest, have no place at a school," Butler County Schools Superintendent Amy Bryan wrote in an email to AL.com. "Threats of violence are a violation of school policy and certainly not condoned by the school board."
September 19, 2016, 11:30 p.m. Eastern: This article has been updated to include a response from Pastor Joyner.