Hillary Clinton's doctor says candidate had pneumonia, is "recovering nicely"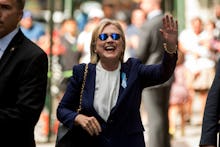 Hillary Clinton appeared to have fainted at a 9/11 memorial ceremony Sunday morning, prompting a wave of speculation from the right that her health was in fact failing. According to Clinton's physician, Dr. Lisa R. Bardack, however, the Democratic candidate for president is doing just fine, thankyouverymuch.
In a statement NBC Nightly News shared Sunday evening, Bardack explained that Clinton was diagnosed with pneumonia on Friday and prescribed antibiotics. 
"While at this morning's event, she became overheated and dehydrated," Bardack continued. "I have just examined her and she is now re-hydrated and recovering nicely."
However, Bardack's statement did not quell right-wing suspicions, leading some — including a Trump parody on Twitter — to speculate about the link between Parkinson's disease and pneumonia. So, unfortunately, we probably can't expect the rumor mill to stop turning anytime soon.