Miss Washington says she supports Colin Kaepernick, but that "all lives matter"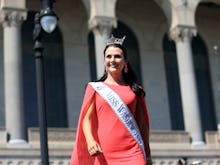 During the question portion of the Miss America pageant, Miss Washington Alicia Cooper was asked whether or not she stood with 49ers quarterback Colin Kaepernick, to which she said "all lives matter" in her answer.
Kaepernick refused to stand for the national anthem on Aug. 26 as he protested police brutality and systemic oppression, and has said he will continue to sit for the anthem.
"We need to focus on how important the Black Lives Matter issue really is," Cooper said in the 20 seconds allotted for her response. "We need to realize that all lives matter in this situation. I don't necessarily support the fact that he sat out, but I do respect that he took a knee."
While many applauded her for supporting Kaepernick, others questioned her use of "all lives matter."
The controversial phrase and counter-campaign has been used in various efforts to undermine the Black Lives Matter movement by preventing the singling out of a specific race and associated sociopolitical issues.
Cooper placed third runner-up in the pageant. Miss Arkansas, Savvy Shields, won the competition.