David Bowie's last recorded songs will be featured on the 'Lazarus' musical cast album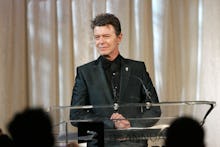 David Bowie's never-before-heard final recordings will be featured on his musical's album in October, Pitchfork reported Monday. The songs, "No Plan," "Killing a Little Time" and "When I Met You," are the English hitmaker's last known studio tracks and have previously only been heard while being performed throughout his stage musical, Lazarus.
The album, set for release Oct. 21, comprises two CDs: one featuring the cast of Lazarus, the second holding Bowie's latest tracks. 
Many fans thought they might have heard the last of Bowie's new music with his final album, which arrived just two days before his passing. Tony Visconti, who co-produced Bowie's final album Blackstar as well as his musical Lazarus, previously shared a message describing the album as a "parting gift" for fans.
"He always did what he wanted to do. And he wanted to do it his way and he wanted to do it the best way," Visconti wrote. "His death was no different from his life — a work of art."
Check out the track list for the Lazarus cast album via Pitchfork below:
CD 1