Meet Torraine Futurum, the young trans model who's already a NYFW veteran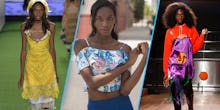 When you ask model Torraine Futurum where she grew up, she'll tell you, "I wasn't born on this planet." When you ask her how old she is, she'll answer, "Timeless."
That's all fine and good, because all you really need to know about Torraine Futurum is that she's taking New York Fashion Week by storm. She's not signed to an agency, not represented by anyone at all, and yet this fashion week alone she's already walked for Gypsy Sport and Barragán, and is set to walk for Vaquera on Monday.
"None of this was in my plan. None of it," Futurum said in an interview. "I don't know. I try not to make plans. I don't have plans like two years from now; it's like life is a mess. I thought I was going to be an artist and stylist a few years ago."
So how did it all happen? By chance, of course.
In late 2015, Futurum, an artist herself who documented her transition through portraits, wanted to get a few portraits taken and ended up pairing with fashion photographer Ethan James Green.
"I wanted an iconic black-and-white photo that would be referenced decades later," Futurum said. "So I kept on following people on Instagram, and I found Ethan James Green. So I just reached out to him to do a portrait, and he shot it and he did a few good photos and then he posted it to fashion media."
According to Futurum, it just snowballed from there.
In February, she made her debut at New York Fashion Week, walking for Gogo Graham and Vaquera. In July, she walked in New York Fashion Week: Men's for Gypsy Sport. In between those two moments, she appeared in Carly Rae Jepsen's music video for "Boy Problems."
In truth, Futurum's interest in fashion was sparked in just 2008, from a specific source.
"I was like very obsessed with The O.C." Futurum said. "So like in 2008, Rachel Bilson was on the February 2008 issue of GQ. I liked the cover and then I was like, 'Well I have the magazine, let me flip through it.' I just sort of got started there. I like the ability to not transform but define yourself visually. It's our first impression of someone."
In addition to pure hard work, Futurum credits her Instagram for getting her to where she is now. With just under 2,000 followers on the photo-sharing site, she said she almost always gets booked through social media.
"I have gotten so many things, but most of my bookings are like people being like, 'Oh I found you on Instagram,'" Futurum said. "It's an amazing platform, and it wouldn't be possible without that. I don't have an agency. Social media is the way to brand and curate yourself and have agency in your own career."
What her Instagram has also given her is a platform to speak her mind about the issues that she's concerned about most, like police brutality.
There's also the fact that Futurum is trying to make it in an industry that's historically never been all that welcoming to transgender models of color. In the past few days of fashion week, though, a few transgender models of color have taken to runways, including Maya Monès, Carmen Carrera and Aurel Haize Odogbo. In an industry that has long ignored them as people, that matters. Just a few years ago, Futurum never would have thought this was a slight possibility.
"Literally before Janet Mock's book, we weren't seen as humans with lives," Futurum said. "People thought of us like drag queens. And honestly still today, people think we go home and look radically different and live different lives. In media we're only depicted as a joke. I think a few years ago people were finally like, 'Oh they're people with jobs and friends and people who don't just exist to make people laugh.' We were just funny punchlines before."
Now, they're increasingly powerful movers and shakers in the industry. Still, Futurum knows she has a ways to go before she has a career as legendary as her idol, Naomi Campbell, or can achieve her goal for 2017, to appear in Playboy.
She just has to work hard as hell.
"I've learned that you have to take yourself very seriously and have respect for yourself and know what you're worth and everyone else will fall in line," Futurum said. "I learned that you need to be confident and stand up for what you believe in and don't worry about burning bridges. Take yourself seriously and if certain people don't want to work with you, that's fine. For the most part, people will bend if you're strong."
With NYFW bending to her now, expect to see more of Futurum, who is both timeless and from another planet, than ever before.