New rumors suggest the latest MacBook Pros could be available soon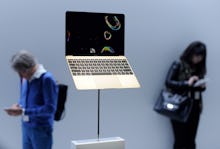 Apple made waves last week with the announcement of the iPhone 7, iPhone 7 Plus and Apple Watch Series 2. Apple CEO Tim Cook, however, did not touch upon Apple's popular line of laptops, the MacBook Pro. For those disappointed with the absence of a computer reveal, good news might be on the way. 
According to a report from MacRumors, Apple is planning on releasing an updated MacBook Pro model in the near future. One of the site's readers emailed Cook himself, asking if Apple was "pulling away from the Mac line." Cook allegedly responded to the email, saying "I love the Mac and we are very committed to it. Stay tuned." 
MacRumors, which published a screenshot of Cook's email, believes it originated from Apple's corporate servers, but its authenticity cannot be confirmed. MacBooks would seem to be due for an upgrade, though, especially because the last update to the MacBook Pro was in 2012. A new line of models is inevitable, of course, and rumors have been swirling on the device's new features.
The new MacBook Pro will reportedly be thinner and feature an OLED touch display, which would replace the standard function bar at the top of the keyboard and provide quick access to setting adjustments and app-specific keys. It will apparently be equipped with Touch ID for convenient sign-ins. 
Mic will keep you updated on the status of the MacBook Pro.