New ad campaign tells millennials to be very afraid of President Donald Trump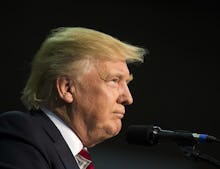 A new spate of digital ads aimed at millennials attacks Donald Trump for his previous inflammatory comments on abortion, climate change and student debt as the reasons why they are voting for Hillary Clinton in the fall.
The ads are aimed at turning out millennial voters. And they are part of a $600,000 coordinated ad campaign by Priorities USA — the main super PAC supporting Clinton — along with pro-abortion rights groups NARAL Pro Choice America and EMILY's List, as well as the League of Conservation Voters' Victory Fund, the campaign arm of the pro-environmental group.
Polling shows millennials back the former Secretary of State, but they may not turn out in as large of numbers as they did for President Barack Obama in 2008 and 2012.
In an ad titled "Choice," a young woman points to Trump's comment that women who receive abortions should incur "some form of punishment."
"Have you seen this?" she asks, before video of Trump's comment plays. (The Republican later backtracked.)
A second ad, titled "Climate," rolls video of Trump calling climate change a hoax.
"You know what's a hoax and a threat to our humanity? Donald Trump, and he could be our president," a voter says.
The third ad, titled "College," shows a female voter talking about how Trump says he'd eliminate the Department of Education, which facilitates federally funded student loans.
"Access to affordable education should be a right, not a privilege. That's why I'll be voting in November."
"Today's millennial voters want a president who will combat climate change, protect a woman's right to choose and make education more affordable," Justin Barasky, communications director at Priorities USA, said in a release. "Donald Trump would do the opposite, and we're going to do everything we can to make sure he never becomes our president."