Blac Chyna's net worth, gender of her baby with Rob Kardashian and more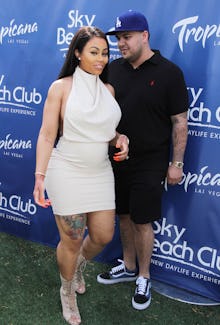 Blac Chyna made headlines after the gender of her baby with fiancé Rob Kardashian was revealed on the Sunday premiere of Rob & Chyna: They're having a girl. 
Chyna — real name Angela Renée White — started her career as a stripper and model before becoming a video vixen. She now finds herself increasingly in the spotlight — and with more spotlight comes more Benjamins. 
So how much does Chyna have in the proverbial bank? According to Celebrity Net Worth, she has $3 million. Her entrepreneurial initiatives, such as adhesive eyelashes and a boutique line, have contributed to her burgeoning empire. 
She's doing more than twice as well as her partner: Kardashian's estimated net worth is $1.16 million. He, too, has earned money from a miscellany of ventures, including a sock line and his appearances on Keeping Up with the Kardashians.
The pair announced their engagement in an April 5 Instagram post, a partnership that is likely to be lucrative for them both. Getting their own show was certainly a start, especially because they're both executive producers. 
A TV special surrounding the birth of their forthcoming child will conclude the series. (Chyna already has a child with ex-partner Tyga, who is currently dating Kardashian's sister, Kylie. Confused? So are we.)
Estimates are circulating around how much the pair could be paid for for their televised wedding and the hubbub leading up to it, which could earn them at least $1 million.
However, a Rob & Chyna teaser leaves some wondering whether or not they'll make it that far. "I don't even know if I want to stay with Rob," Chyna said, according to People.
Nonetheless, she reportedly trademarked "Angela Renee Kardashian" in anticipation of her nuptials, opening the door to her making money off the profitable last name.
That's all to say her net worth could see a big jump over the next year if she plays her cards right.