The woman in "The Kiss" photo has died — but, boy, does that image feel wrong now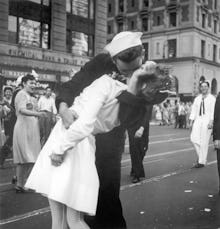 Over the weekend, news broke that Greta Friedman — widely believed to be the woman in the now-iconic V-J Day celebration photo "The Kiss" — passed away on Sept. 8, at the age of 92. The shot has somehow become a stand-in for all things patriotism and romance.
It feels good to project a narrative unto these anonymous strangers. Perhaps it was a moment of unbridled passion mingled with fiery patriotism. Maybe this sailor, newly home from the war, was overcome with emotion after being reunited with his sweetheart. 
So sorry to rain on your ticker-tape parade, but nope. The disappointing reality is that what photographer Victor Jorgenson caught on film is little more than an impromptu make-out session forced on one stranger by another.
According to Feministing, "the image actually and unambiguously depicts an act of sexual assault." Because the sailor neither knew Friedman nor asked her permission before putting his face on hers. 
On Aug. 14, 1945, Friedman — a native of Austria who immigrated to the United States at the age of 15 — was a 21-year-old dental assistant. She left her office and headed to nearby Times Square to see about some commotion, which turned out to be a crowd reveling in Japan's capitulation and the end of World War II. 
According to a 2005 interview with the Veterans History Project, Friedman was just minding her business, taking in the scene, when a rogue sailor ran up and inserted her into a historical narrative from which she may well have wanted to be excluded. He didn't ask before he acted.
"Suddenly, I was grabbed by a sailor," Friedman told the VHP. "It wasn't that much of a kiss. It was more of a jubilant act that he didn't have to go back." 
According to Friedman, the kiss "wasn't a romantic event," but rather, "just somebody celebrating." But, she was clear, "It wasn't my choice to be kissed. The guy just came over and grabbed!"
"I was in this vice grip!" she later told CBS.
The guy's name was George Mendosa, Friedman later learned. Mendosa, she assumed, was so grateful to the nurses who worked on the front lines that he made a beeline for the first nurse-looking woman he saw, tipped her backwards and planted a big one squarely on her kisser. She told her interviewer that he'd been in Time Square with a date, Rita Petry, who later became his wife and who watched the whole thing unfold.
Petry, who was reportedly actually a nurse, later told CNN that the incident "didn't matter to me," and that she can be seen "grinning like a mutt" in the background of the picture.
Petry wasn't the only witness on-hand, though: Photographer Alfred Eisenstaedt also saw Mendosa grab Friedman, and captured the smooch on film. The picture ran in LIFE magazine shortly thereafter, with neither Friedman nor Mendosa named in the caption. (The image used at the top of this story was taken by Victor Jorgensen, another photographer on the scene.) Three women self-identified as the nurse in the photo, but Friedman herself didn't see the image until she spotted it in a book, The Eyes of Eisenstaedt, in the 1960s. 
She told her interviewer that she got in touch with LIFE, and in 1980, the publication summoned Friedman and Mendosa back to Time Square, where Eisenstaedt took another photo of the pair in which they are, at Friedman's request, not kissing. That was the first time they formally met. 
Mendosa doesn't seem to have dwelled much on the moment, either. According to CBS, he later attributed it to drunken abandon: "The excitement of the war bein' over, plus I had a few drinks," he said in 2012. "So when I saw the nurse I grabbed her, and I kissed her."
The "few drinks" too many excuse is one we still hear today from men looking to defend their unwanted advances or sexual assaults. For her part, Friedman doesn't seem miffed about the encounter, having told her interviewer that Mendosa "made me famous, because he took the action," while she was "just a bystander." 
Ultimately, she said, it's the mark of a good photographer to capture a "wonderful coincidence" such as a man in a sailor's uniform pouncing upon a woman in a uniform resembling that of a nurse. Her tolerance of the non-consensual encounter may also be a mark of the changing times.