Bushwig Festival celebrates the increasingly broad and inclusive definition of drag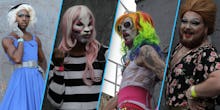 This weekend was an epic drag. Cherry-topped by a long-overdue Emmy win for famed drag queen RuPaul Charles, the real fun kicked off during a weekendlong festival of drag, queer performance and music known as Bushwig.
Headliners at the 2016 festival included Lady Bunny and the Boulet Brothers, as well as RuPaul's Drag Race alums Latrice Royale, Thorgy Thor and April Carrion.
"As large clubs continue to die out, these one-off festival events like Bushwig or the Wigstock Cruise, Drag Race launch parties, gay pride events or even Hallowe'en and New Year's Eve parties take on a new importance," Lady Bunny said in an interview. "Since there aren't many regular parties in larger spaces anymore, we need bashes like Bushwig."
Asked what differentiates the Brooklyn, New York City, drag scene, Lady Bunny had this to say:
It's alt-drag, where you may see queens with beards, in half-drag or in simply bizarrely creative drag. The Manhattan drag scene can skew towards predictable, with an emphasis on top 40, celeb impersonations, show tunes and Disney. So Manhattan, once the hotbed of creative drag, has now dulled in comparison to Bushwig.
Founded in 2012 by Matty Horrorchata and Babes Trust, the two-day festival is a sprawling playground of queer creative energy brought to life in 150-plus performances that this year ranged from irreverent to spooky to smutty to cover-your-eyes, but with a vulcan salute for safe peeking. 
"It's like going to a concert venue to see your favorite musician, but instead of your favorite musician it's 150 drag performances," Sam Banks, a drag performer and yoga teacher who performed Chvrches' "Clearest Blue" during his first-ever appearance at the festival, said in an interview.
"It was body and legs and a buildup and a climax," he said when asked to describe his interpretation of the song. "The song crescendos very much like an orgasm, so that's what I was giving."
For Dream, a Brooklyn-based artist and co-director of The Culture Whore, it's about togetherness. "It's one of the only times of the year that everyone in our scene is together," she said in an interview. "The whole founding idea of Bushwig is about gagging your sisters — and that's fun."
For her third year performing, she did just that, baiting the audience with the first four seconds of Lady Gaga's "Perfect Illusion" on loop before transitioning into Avril Lavigne's classic "I'm With You."
Mic was on-hand to capture some of the legendary lewks on display at the Knockdown Center. 
Take a peek at some of our favorites below.